4 Things You Should Know About Grip Socks
Socks are an important part of our outfit, and in the latest new kind of socks have attracted much attention and have gained an increasing popularity. These are the grip socks. What made these socks so popular choice, and why should you actually use them?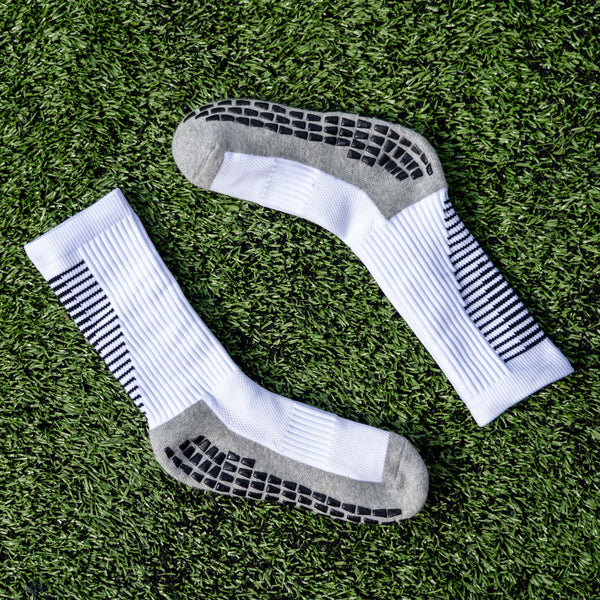 What is grip socks?
Grip socks have specially designed and carefully distributed gripping pads on their bottom, and often on the side. What is the function of these pads? The pads have the purpose to ensure higher level of friction with the shoe. With better friction between the sock and the shoe, you can experience better fit while wearing them. 
Why you should switch to the grip socks
Grip socks have become an increasingly popular choice in many sport disciplines. The main reason for this are the benefits athletes have from using them.
Better Comfort. Gripping pads on their sole increases the level of friction and reduces the risk of blisters.

This is extremely important if you are into sport, like football.

Greater Banlence. You can have better control over your movement and keep the stability of your body, 

especially when performing Football game, Fitness, home workout, Pilates or Yoga.

Improving athletic performance. Having better grip will increase your overall performance. With perfect grip to your side, you can achieve more power and speed compared to your opponents.
Wear Football Grip Socks Like A Pro
Your football boots, although being the appropriate size for you, is not actually a perfect fit. There is always going to be some room left between your foot and the inner part of the shoe. Football grip socks have grip pads on their bottom, and on the sides. the pads are positioned in places where footballers feel the grip is needed the most. That allows your foot to acquire perfect fit within the shoe.
If you pay no attention, you would not notice a difference in socks worn by pro footballers today. Football socks in modern football have a much more significant role than before.Most of the professional footballer.having an additional pair of sock sleeves to keep their equipment tight, some footballers love to wrap a tape around their socks. By putting the tape on, they can keep their socks and shin guards in place.Try Fourmint Football Grip Socks kit Pack, update your skill today.
Wear Grip Socks for More Activity
Wear grip socks for running. Grip socks may be the piece of running equipment that not only you can use, but actually should use. Why is that? These socks are designed to be comfortable,reduce the risk of having blisters and sore feet after you finish your exercise.
Wear grip socks in fitness. Fitness workouts, together with yoga and pilates, are a perfect way to stay in shape within the comfort of our home or indoor room. grip socks are designed to prevent any kind of slipping and sliding.ensuring that way a perfect grip between your feet and trainer shoes or your feet and ground. Try a ankle grip socks.
---